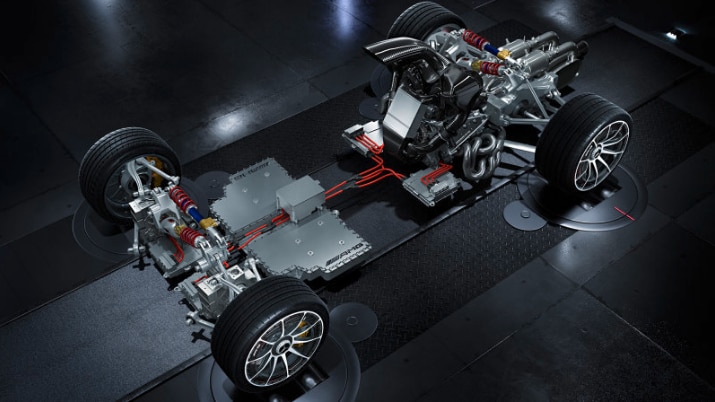 At the beginning of the year, it was announced that Mercedes-AMG was developing a Formula One-inspired, street-legal hypercar capable of at least 1,000 horsepower, among other remarkable feats. As promised, this hypercar—referred to as Project One—is on track to make its debut at the 2017 Frankfurt Auto Show in September.
Project One houses a powerful 1.6-liter turbocharged V6, the same of which has been used in championship-winning Formula One racecars. The V6 alone generates almost three-fourths of the hypercar's horsepower, and can rev up to 11,000 rpm. Additionally, the engine's thermal efficiency exceeds 40 percent, a huge step up from most performance vehicles. However, unlike the F1, Project One will receive an eight-speed manual transmission.
The engine will be assisted by two electric motors. The first, a MGU-K, sits in the rear, delivering power to the back wheels and recovers energy when possible. The second, a MGU-H, is integrated with the turbocharger. Sitting in between the turbocharger's turbine and compresser, this motor is able to supply and recapture energy for smoother, more efficient operation. This set-up is also found in the F1 hypercar. Total system output is currently estimated at 1,020 horsepower.
What's especially unique about Project One is that it has additional electric motors at the front, which power the front axle independently of the engine in order to create an all-wheel drive system. This system is able to work solely on its own when needed, giving the hypercar an available front-wheel drive, electric-only mode with a range of approximately 15 miles.
On top of all this, it was also revealed that Project One will feature a fully adjustable suspension with an overlapping inboard design—something you won't find on the racetrack. The hypercar is also set to receive custom Michelin Pilot Sport Cup tires (285/35R19 front, 335/30R20 rear).
As always, be sure to check back for the latest information on the Project One development!