The new, all-electric Mercedes-Benz EQS Sedan was designed to be a challenger to the Porsche Tayan, Tesla Model S Plaid, and Lucid Air.
Equipped with new CATL cells, the EQS is expected to have a range of more than 300 miles. A single rear-wheel drive motor or dual motors for the all-wheel drive powers the EQS to 0-60 in 4.3 seconds with 516 horsepower. A usable 107.8 kWh will propel the EQS to a speed limited to 130 mph.
Created to be a technological flagship, many available innovations include adaptive damping with rear-wheel steering. The range will likely improve with over-the-air updates that will include the battery management system. The high-end EQS will stand out against the completion with an innovative cabin wrapped in a unique dash, fine details, and the soothing smell of abundant leather.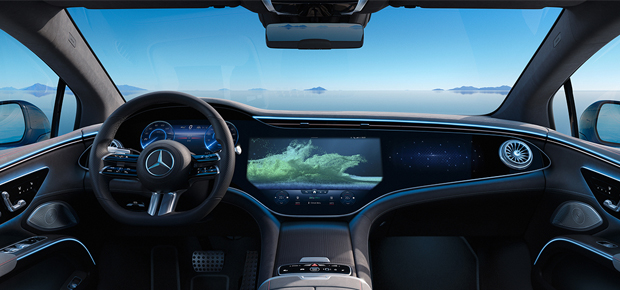 Packaged with features to create the Mercedes-Benz allure like a Hyperscreen interface that makes a minimalistic environment with advanced tech, power-opening, and closing doors, and multiple soundscape settings. EQS fingerprint sensors, high-end air filtration, and aromatherapy greet the new owner. Designed as a liftback, it includes a small trunk with modest storage space.
One-bow, cab-forward design follows the S-Class but with a new direction for the exterior, unlike traditional long-hood designs. Built upon Mercedes-Benz's large electric vehicle platform, the wheels provide a stronger stance with pushed outward design.
Mercedes-Benz EQS introduces the new Hyperscreen System that incorporates seven different profiles, including AI. The dash is a unique, continuous display that is the brain and nervous system of the vehicle. The Hyperscreen dash may not be offered on all EQS models giving the owner a choice of a stark and futuristic look or a more traditional and warm cabin.
Three different soundscapes provide different sound expectations for audiophiles. Soundscape ranges from a crystal clear and warm tone, clean sound, or a robust machine feel. There will likely be more Soundscape versions developed based on Mercedes-Benz developed algorithms.
An activated-charcoal HEPA filter removes 99.65% of particulates and captures a significant percentage of bacteria and viruses. Options include fragrance introduced into the cabin and an audio library that includes soothing bird and surf sounds.
Outside the vehicle, a unique profile is created by the one-bow design providing plenty of interior space and a drag coefficient of 0.20, making it one of the world's most aerodynamic production cars.
Visit our dealership to discover the exhilarating Mercedes-Benz EQS.