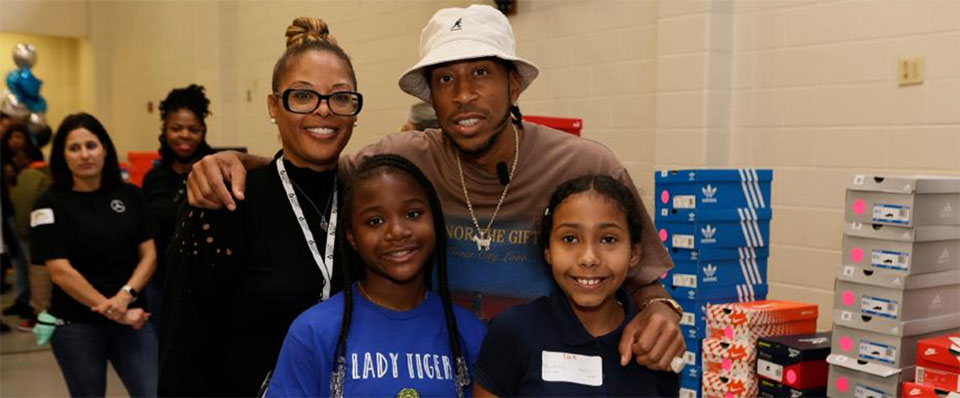 Mercedes-Benz and three-time Grammy Award winner Ludacris have two things in common. Number one, they are well-known as innovators in their respective industries. The second is how devoted both are to the community at large. That's why it made perfect sense for them to collaborate on providing shoes to those less fortunate during the holiday.
Hometown Roots and Giving Back
Ludacris, born Christopher Brian Bridges, is best known as an entertainer, rapper, and entrepreneur and his role in the "Fast and Furious" film series. Through the Ludacris Foundation and the non-profit organization Shoes That Fit, Mercedes-Benz and Ludacris teamed up to give children in Atlanta new athletic shoes to attend school with dignity, pride, and joy. Ludacris is also the Brand Ambassador for Mercedes-Benz. As part of Mercedes-Benz's annual "Season to Shine" holiday program, they delivered new shoes to each student in attendance at one of their partner schools in Atlanta, Ludacris' hometown. In May 2022, he received an honorary Bachelor of Science degree in Music Management from Georgia State University.
The program distributed nearly 1,300 pairs of shoes and has provided more than 2 million pairs since being established in 1992. This year, Ludacris assisted in giving out the shoes alongside Mercedes-Benz employee volunteers, and he did so in his typical cheerful and encouraging style. "I care deeply...And it was an honor to help Mercedes-Benz give back," said Ludacris. "I'm thrilled to be part of helping students [at Leonora P. Miles Intermediate Elementary] realize their greatness with new shoes."
The Commitment Continues for Mercedes-Benz
According to Dimitris Psillakis, President and CEO of Mercedes-Benz USA, the commitment to helping the next generation to thrive and provide tangible resources to ensure children are prepared to learn, play, and succeed is stronger than ever. The continued efforts by Mercedes-Benz and Shoes That Fit has contributed to 62 percent of schools across the United States reporting improvements in the behaviors of those recipients, and 87 percent have reported an improvement in self-esteem.
In addition to those provided by Mercedes-Benz and Shoes That Fit, employees nationwide of the automaker were encouraged to participate in the Season to Shine program by donating additional shoes, benefiting numerous children in communities across the country. Season to Shine's mission is also to empower the next generation with educational programs, career readiness, and child safety programs.
If you want more about the Season to Shine program, you're encouraged to reach out to our dealership. Our dealership is grateful to be associated with Mercedes-Benz and its efforts to make a lasting impact on children in this nation with basic needs, such as shoes.