Husker Auto Group is electrified to be the premier point for the Mercedes M-Class in NE. Husker Auto Group is a Lincoln Mercedes dealership and carries a vast inventory of New Mercedes M-Class and top quality, high value used Mercedes M-Classs and other cars & trucks.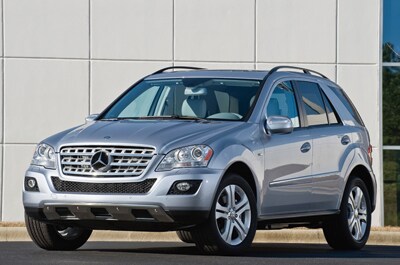 When buyers compare the Mercedes M-Class to other makes like the Audi Q7, BMW X5, Land Rover LR4 , and Acura MDX, the 2012 Mercedes M-Class shines as the most fun-to-drive. Starting with the 2011 Mercedes M-Class, owners found this affordable SUV 's crisp handling and lively acceleration to be reason enough to choose.
You'll be pleased by the Mercedes M-Class luxury midsize suv when you shop at [Dealership Name] in Lincoln
When Mercedes-Benz launched the M Class over ten years ago, it completely changed what people expected from SUVs, while simultaneously solidifying the brand's stellar reputation. After all, the first luxury SUV to feature electronic stability control, 4 wheel traction control, and 4 wheel independent suspension, came from the same leading engineers that introduced each of these innovative ideas to their line of luxury cars. No matter how times change, the Mercedes-Benz has remained a timeless classic since its first model arrived. Consequently, the M Class continues to pave the way with remarkable scores in safety, the perfect balance between size and space, low emissions, the right balance of space and size, and countless luxury options. With an MSRP starting at $46,490, the extraordinary M-Class is available in several trims/models, all coming standard with a seven-speed automatic transmission. The various options include: ML350 SUV, ML350 Blue TEC SUV, ML450 Hybrid SUV, ML550 SUV, M-Class Mercedes, Mercedes Benz M-Class, ML350 Mercedes, ML350 Benz, ML550 Mercedes, Benz ML550, ML450 Mercedes, ML 450 Hybrid, Benz ml450, and the Luxury mid-size SUV. The Mercedes M-Class vehicles also come in an array of colors, including Alpine Rain Metallic, Steel Gray Metallic, Diamond White Metallic, and Capri Blue Metallic. Husker Auto Group in Lincoln has the best selection of all new 2011 Mercedes-Benz Lincoln area, so stop by today.
Since its debut in 1997, the mid-size luxury SUV has remained a top pick amongst consumers. It was the first luxury SUV to include stability control, which is a system that aids in detection of loss of control, which will in turn interact with selective braking to instantly bring the vehicle back to its designated course. In 1998, a year after its debut, Motor Trend named the M-Class Truck of the Year. As it continued to gain momentum and increase in popularity, the popular vehicle received a facelift in 2005 at the North American International Auto Show. Sporting a brand new aerodynamic appearance, the model also increased in size. Confirming the positive changes, Automobile Magazine states, "Inside, the ML is available with richer materials, including full leather stitching for the dash. There's a new steering wheel, a new seat design, and, more important, the latest generation of Mercedes-Benz's telematics system, including the logical Command interface that debuted on the S-class." Test drive one today at Husker Auto Group in Lincoln.
Mercedes-Benz makes its mark with the outstanding M-Class. Noteworthy in the line are the powerful ML350, that has a 3.5-liter V-6 that makes 238 horsepower, the ML550 V8, that makes 382 hp, ML63 AMG, which gets 503 hp from a 6.2 liter V-8, and the ML350 Bluetec diesel that uses a 3.0-liter V-6 that makes 210 hp and 400 pounds-feet of torque. According to Edmunds, "The 2011 Mercedes-Benz M-Class has a lot going for it, including a high-class cabin, superior construction and that Mercedes-Benz cachet." The Mercedes M-Class is a stand-out amongst the competition, re-defining luxury and drivability. Husker Auto Group in Lincoln, NE proudly offers Mercedes-Benz M-Class line with all-new Trim Levels and countless options.
Here's the reasons why the Mercedes M-Class needs to be your treasured luxury midsize suv in wonderful NE
Husker Auto Group offers the Mercedes M-Class, a 4-door SUV which seats 5 people satisfactorily. The M-Class weighs 4,632 pounds, is 188.2 inches long, 75.2 inches wide, 71.5 inches high, and the Mercedes M-Class's turning radius is 19 feet. extremely roomy for its class, the M-Class has 39.9 inches of headroom in the front, as well as 42.2 inches of legroom. In the M-Class's back seat, there are 39.8 inches of headroom and 40 inches of legroom. Need to bring a lot of luggage on your next trip? The M-Class trunk holds up to 29.4 cubic feet of your gear. So, spread out and indulge!
Standard Mercedes safety features included in the M-Class are: traction control, anti-lock brakes, side airbags, driver airbags, side-impact bars, seat-belt pre-tensioners, and passenger airbags. With all of these features, the Mercedes M-Class is always extraordinarily rated by the IIHS and NHTSA.
The M-Class also has an abundance of comfort and convenience features including: power steering, remote locks, power windows, power mirrors, climate control, cruise control, air conditioning, power seats, an adjustable steering wheel, and more! Especially convenient are the available hands-free phone and navigation systems. Test drive the Mercedes M-Class in Lincoln at [Dealership Name].
Like all Mercedes cars & trucks, road handling and performance are top priorities for the M-Class. Passing horsepower in the base M-Class is 268hp @ 6,000RPM, and it produces excellent torque - 258 lb.-ft. @ 2,400RPM foot pounds/rpm. The M-Class accelerates rapidly from 0 to 60 mph in just 7.4 seconds. If you want to go fast, the M-Class has a top speed of 155 miles per hour. Despite this excellent power train output, the Mercedes M-Class's fuel economy is rated at 16 miles per gallon in the city and 20 highway miles per gallon. With a fuel tank capacity of 25.1 gallons, the M-Class cruising range is well above average, truly making it a performance car!
The Mercedes manufacturer's warranty covers the M-Class for manufacturing defects and has a 4 Years / 50,000 miles Mercedes warranty. Mercedes has worked for years to minimize its environmental impact, and the M-Class's carbon footprint is rated very low. Not surprisingly, with all of these M-Class advantages, this great Mercedes SUV retains a high percentage of its value at 3 years and 36,000 miles, which makes the Mercedes M-Class a great used buy!
When seeking a safe, economical, sporty and stylish SUV , Lincoln buyers should head to the Mercedes dealer of choice, Husker Auto Group at 6701 Telluride Dr. in Lincoln [Dealership State].
Mercedes M-Class service information for Lincoln
Mercedes M-Class owners and lessees in Lincoln have found that Husker Auto Group at 6701 Telluride Dr. in Lincoln is the very best choice for M-Class warranty work, regular maintenance & inspections, and mechanical repairs. At Husker Auto Group, Certified Mercedes Technicians trained in the very latest diagnostic and corrective techniques work for only one thing - your complete satisfaction. Whether it's time for your Mercedes to have an oil change or tire rotation, or if you need regular M-Class Scheduled Maintenance, Husker Auto Group is your first choice. Wheel alignments are another specialty of our Certified Mercedes Techs, and here at 6701 Telluride Dr., we are the smartest choice in Lincoln for quick, courteous, and professional Mercedes Service of all kinds.
If you'd like to make an appointment to have your M-Class serviced, click the link or just give us a call. See you soon.