Find out how you can benefit from battery service in Lincoln by watching this short video!
Service Hours
Monday

7:00 am - 6:00 pm

Tuesday

7:00 am - 6:00 pm

Wednesday

7:00 am - 6:00 pm

Thursday

7:00 am - 6:00 pm

Friday

7:00 am - 6:00 pm

Saturday

By Appointment Only

Sunday

Closed
Taking proper care of your vehicle's battery is essential for optimal performance. However, many Lincoln drivers are unsure of how to go about this important piece of Mercedes-Benz maintenance. In order to help you protect yourself from battery failure, we've put together this short guide below.
Step 1: Schedule Routine Battery Service Near Me
No one knows more about your Mercedes-Benz battery than our highly experienced, factory-trained service technicians! That's why we recommend that you receive battery service near me on a regular basis, around the same time you receive your routine oil changes. That way, you can ensure your battery is in good health.
During a battery inspection in Lincoln, we'll perform a voltage test and charge the car battery as necessary. Additionally, we'll look closely to make sure there are no signs of damage or corrosion, then apply protectant to maintain its excellent condition.
Step 2: Take Precaution to Protect Your Battery from Premature Wear
Car batteries inevitably wear over time, lasting anywhere from three to five years. Wear is caused by a variety of factors, including weather conditions, frequency of use and how many "parasitic drains," or components that constantly use power, it supports.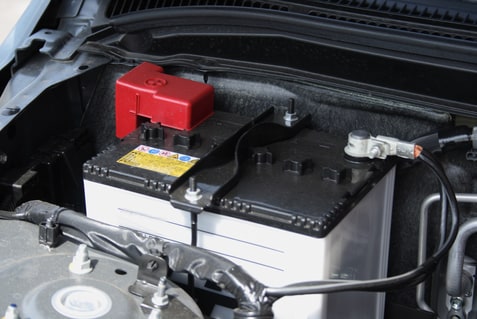 While not every factor can be controlled, there are several habits drivers can adopt to help their batteries last as long as possible, including:
Unplugging power adapters, phone chargers and other accessories when not in use
Avoiding using battery-powered accessories like the radio or cabin lights when the engine is off
Allowing the battery to fully recharge after start-up by taking longer drives
Keeping the vehicle cool during the summer by parking in covered areas
Never allowing the vehicle to sit for weeks without being driven
Step 3: Check for Symptoms of Battery Failure
Sooner or later, you'll need to switch out your old Mercedes-Benz battery for a new one. In order to prevent yourself from being surprised by a dead car battery, you'll want to keep an eye out for these signs your car battery needs replacing:
Battery quickly loses charge and/or requires frequent jump starts
Engine is slow to turn over
Battery shows physical signs of damage, such as a bloated and misshapen case or corroded battery terminals
Battery light is illuminated on the driver control center
If you experience any of the above symptoms of a failing car battery, it's an indicator that your vehicle is in need of immediate battery replacement in Lincoln.
Step 4: Visit Our Local Mercedes-Benz Auto Repair Shop for a New Battery
When you are looking for a new car battery near me, it's imperative that you purchase the correct size and voltage for your vehicle. That's why we recommend that you visit us for battery replacement in Lincoln! We'll get you situated with a high-quality Mercedes-Benz battery and back on the road as quickly as possible.
Schedule an appointment with us online today!