The Mercedes brand offers a line of unique vehicles with advanced features. Our brand's engine and transmission has been carefully designed to provide maximum performance. To get the most out of a Mercedes vehicle, you should schedule routine transmission and maintenance. If you don't maintain your vehicle's transmission, you may notice sluggish acceleration and loud noises coming from your vehicle's transmission. Contact our dealership to schedule a transmission repair service or repair service.
When Should My Transmission Fluid Be Replaced?
Your manual is a useful resource to help you determine when your vehicle's transmission fluid should be replaced. Depending on your model, it may be suggested that you change your vehicle's oil every 30,000 or 70,000 miles. Although your vehicle may be equipped with maintenance indicator lights, you shouldn't wait until these lights illuminate to schedule a service. Take a look at your manual and keep tabs on the maintenance recommendations.
What Happens If My Transmission Fluid Gets Dirty?

Mercedes is a luxury brand that requires a significant financial investment to purchase and maintain. You should make every effort to stay on top of your routine maintenance service recommendations. In spite of your best efforts, maintenance lapses can happen. If your transmission fluid gets dirty, it can cause your Mercedes to malfunction. You may notice that your vehicle is shifting gears without warning. Another sign is your transmission fluid has a burnt smell. If you suspect a problem with your transmission, schedule an appointment with our service center as soon as possible.
Should I Take My Car to a Mercedes-Benz Dealership for Transmission Services?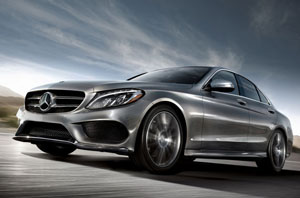 The service center at our dealership understands the importance of transmission services and maintenance. Our certified technicians have been trained to diagnose and repair transmission problems with Mercedes vehicles. Our mechanics use original equipment manufacturer parts (OEM) for all of our repairs. We believe the best way to protect your vehicle is by scheduling your service with a Mercedes service center like the one at our dealership.
Can I Repair My Transmission Without a Mechanic?
When it comes to transmission services for Mercedes vehicles, do-it-yourself projects aren't a good idea for a few reasons. It's likely that you don't have the experience, equipment or technical training to properly perform the service. Your transmission problem could be caused by your electrical system or another component. If you inadvertently misdiagnose the problem, this mistake could cause thousands of dollars in damage to your vehicle. Let a professional at our dealership take care of your transmission requirements.