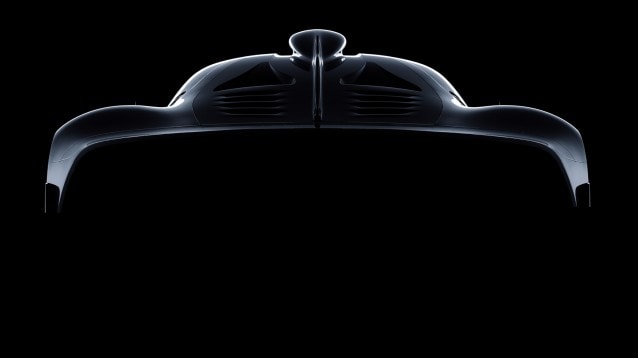 ?This year marks the 50th anniversary for Mercedes-Benz's high performance division, Mercedes-AMG, and to celebrate, the automaker is developing a brand-new, street-legal Formula One hypercar that is sure to blow competitors like the Porsche 918 Spyder out of the water. This new hybrid speed machine is nicknamed "Project One," and is geared to have a total system output of at least 1,000 horsepower.
"If AMG brings a hypercar to market it should be something really innovative, really different in terms of technology," said CEO Tobias Moers. "Bringing another hypercar with a V8 or V12 — it's just another one. It's the pinnacle of technology you can execute today."
The hypercar will feature a variation of the propulsion system as the automaker's 2015 Formula One racecar: a high-powered hybrid system composed of a 1.6-liter turbocharged V6 engine, two motor-generators and a lithium ion battery. On the F1, one of the motor-generators works in conjunction with the engine's turbocharger, while the other pairs up with the main driveshaft to propel the rear wheels and recycle energy used during braking. According to Mercedes-AMG, the new project will add another motor generator to the front wheels, creating an all-wheel drive system with a small all-electric range.
Engineers are also working towards getting the hybrid system to perform well at low RPMs (under 3,000) while meeting emissions regulations at high RPMs (up to 10,000). In addition to low emissions, the hypercar will also be highly fuel efficient and aerodynamic.
The Project One car will make its first appearance at the 2017 Frankfurt Auto Show later this year. While we can't be sure when or where this hypercar will be available for purchase, we can say this is only the beginning of Mercedes-Benz's evolution towards high performance, electrified vehicles.
Stay tuned to our blog for more information on this exciting development and for the latest Mercedes-Benz news.